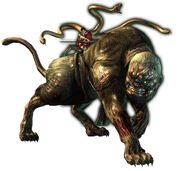 Tojiro is a clever and savage boss of Kurokawa Yakuza clan. Ryoko, Tojiro's daughter has a furious temper and a sharp mind. They love their family. Tojoro feels a strong sense of responsibility with pride to his role as a boss. They intentionally get infected by the Alpha worms to obtain more power and they lose a shape of human as a result.
Official Description
Edit
Tojiro is the larger of the two. He is on all fours due to being infected by Alpha worms. His daughter is Ryoko Kurokawa.
Ad blocker interference detected!
Wikia is a free-to-use site that makes money from advertising. We have a modified experience for viewers using ad blockers

Wikia is not accessible if you've made further modifications. Remove the custom ad blocker rule(s) and the page will load as expected.